Most popular styles this season
HENRIETTE STEFFENSEN COPENHAGEN was launched in Denmark in 2003, in a few selected boutiques. Fleece fabric has always been an important part of the collections, and we have never stopped developing the Italian and Portuguese produced fabric. Years ago, we decided to focus more on lifestyle than on fashion.
Working with the design, colors, and quality of workmanship we constantly aim to create garments that will last for many years. We are proud that many of our designs remain a favorite piece many years after it is bought.  When sustainability is a part of the company's DNA, it does not make sense to make clothes that only last for a season.
In addition to the ultimate casual soft feeling in our fleece fabric, we have added jersey styles with the same DNA and feeling.
Throughout the years, men have requested a similar collection with masculine simplicity. In 2019 we launched Carl By Steffensen, with a selection of fleece jumpers, hoodies, cardigans, and accessories for men. Production of both brands takes place at carefully selected factories in Europe.
Sustainability is a big part of our self-understanding and we constantly aim to minimize our impact on the planet. Our NO WASTE label is a limited edition produced from leftovers from mail production. We hope you feel inspired to browse our website to learn more about our universe.
Our brands are represented in more than 800 boutiques in Europe, USA, Canada and Japan. All styles are certified STANDARD 100 by OEKO-TEX® cert. nr.2176-347 DTI.
Our collections are "all year round" collections without the usual sharp separation of the different seasons and years. It makes the most sense to us that the clothes can be worn for years to come. Therefore, the quality of our textiles and workmanship is high. Our philosophy is to allow you to mix and match across the collections and combine with what you already have.
Our basic color universe is soft, calm, and classic colors that lead the mind to earth, wood, stone, water and sand.
Every year we develop colors that have more power and fullness that can give your look more edge. Maybe a scarf with a strong color is enough for you whereas others dream of a long cardigan.
New designs are coming in our basic colors and old classics in the new colors. Whichever color you choose, there is always something in the shop that fits beautifully, whether you choose the tone of tone or a contrast.
We as women have different shapes and feel comfortable in different designs. On our webshop, you can find a large selection of cardigans, jumpers, sweaters, and dresses among others, in different lengths and widths, casual, figure-made, or boyfriend-inspired styles. Selected designs are also produced in XS and XXL.
Twice a year we have a photoshoot in Denmark where we mix new styles and colors with classics. We hope you are inspired by our pictures to get your personal HS style.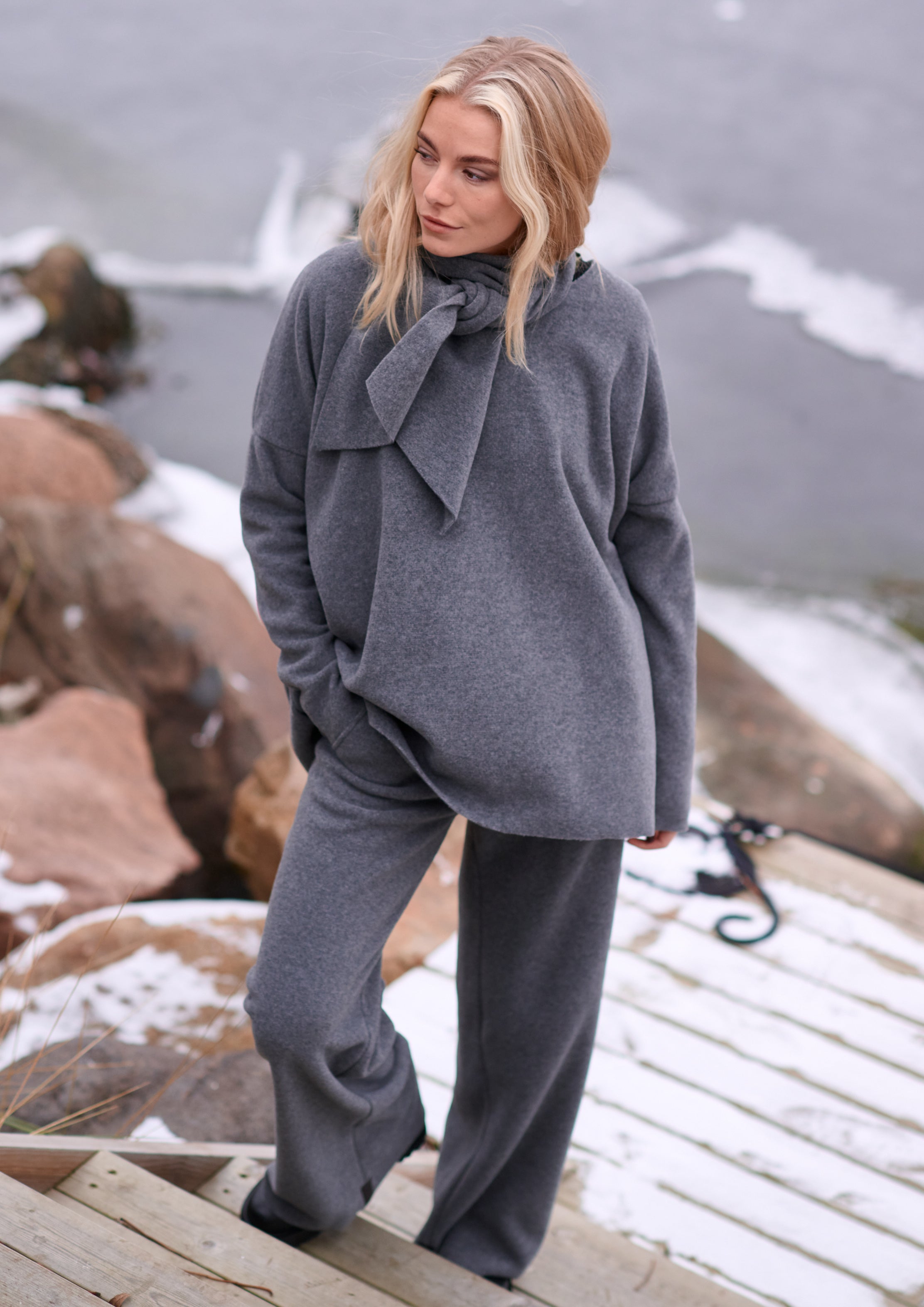 Shop the look